Good day,
I migrated all my programs (123solar + metern + home assistant + ramlog + webserver apache + ....) from a raspberry pi 3 raspian stretch lite to a raspberry pi 3 raspian buster lite.
99% are ok.
The only problem that i have is with metern.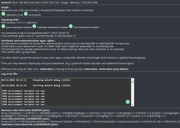 In the log file i read:
If I check on terminal:
Inside the folder /dev/shm I can found all the files and all of them are with permission 777. The file with all the data is metern2.txt with all the information that they are updated in real time from a smd630 modbus.
BUT the 2 files: mN_ILIVEMEMORY.json mN_LIVEMEMORY.json are null or 0 values.
So in the metern GUI are not able to read any data. [exluding history data]
Also in the GUI admin tab -> Meter(s)&sensor(s) if I push the button "Test command" (for both "Command" and "Live command") I recived
Thanks for any advice