Hi!
Did not find anything in the forum, so I ask directly:
My RPi sd-card was broken and I had to reinstall the system. Now, after putting back the backup files, I get the following hint in meterN admin page:
Your config file(s) need(s) to be updated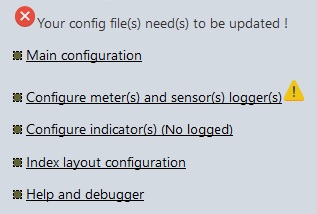 Any idea, where I can find out, what is missing?
When I goto debug page, I also get the following message in /var/log/messages:
apache2: PHP Warning: file_get_contents(/dev/shm/mN_ILIVEMEMORY.json): failed to open stream: No such file or directory in /var/www/metern/admin/help.php on line 151
Might this be related?
Thx,
Mario